◄ back to

all posts
Written by Jesse Colombo | Mar, 16, 2018
Print Friendly

Chart of the Day
Today's chart of the day shows cumulative U.S. GDP growth minus federal debt issuance. Most studies and discussions of U.S. economic growth assume that it's natural, organic, and sustainable, but the reality is that it's largely juiced by deficit spending (particularly since the Great Recession). According to Peter Cook, CFA:
The cumulative figures are even more disturbing. From 2008-2017, GDP grew by $5.051 trillion, from $14.55 trillion to $19.74 trillion.  During that same period, the increase in TDO totaled $11.26 trillion.  In other words, for each dollar of deficit spending, the economy grew by less than 50 cents.  Or, put another way, had the federal government not borrowed and spent the $11.263 trillion, GDP today would be significantly smaller than it is.
How much longer can we continue juicing economic growth like this? The U.S. federal debt recently hit $20 trillion and is expected to hit $30 trillion by 2028. Despite what Modern Monetary Theorists (MMTers), Keynesians, and similar schools of thought claim, common sense dictates that the endgame is not far off.
Here is your weekend reading list.
Have Treasury Yields Peaked for 2018? BMO Thinks So (Bloomberg)
Strong Demand For 30Y Paper Shows No Shortage Of Buyers Amid Surge In Issuance (ZeroHedge)
Gundlach Says 10-Year Treasury Above 3% Would Drive Down Stocks (Bloomberg)
SP500 performance around Fed tightening cycles (The Macro Tourist)
Dodd-Frank Rollback Optimism Hands Bank ETFs Record Inflows (Bloomberg)
FANG Rally Is Outpacing the Heyday of the Tech Frenzy (Bloomberg)
Apple is inching towards a $1 trillion valuation (Business Insider)
Buying Stocks Now Is Betting On Buybacks (Forbes)
Record Stock Buybacks at Worst Possible Time (Mike "Mish" Shedlock)
4 Reasons To Sell Tesla Stock (Forbes)
Everything is shrinking at GE except its massive debt (CNN Money)
Remembering Bear Stearns & Co (Institutional Risk Analyst)
A Worrying Shift for U.S. Pensions: Retirees Will Soon Outnumber Kids (Bloomberg)
The Coming Pension Crisis – Part I, Part II (Daily Reckoning)
The U.S. Retirement Crisis: The Elderly are Broke (Gold Telegraph)
The stock-market correction may be only half over, if history is any guide (MarketWatch)
JPMorgan Moves Closer to Urging a Rotation Away From Equities (Bloomberg)
Bullish On Oil Because of Trump? Don't Be! (Mike "Mish" Shedlock)
What Event Will Sink the Stock Market? Yields? Tariffs? Trump? (Mike "Mish" Shedlock)
The Netflix Bubble (Seeking Alpha)
---
The U.S. Inflation Scare May Be Over (Bloomberg)
Subdued CPI Disappoints Economic Illiterates (Mike "Mish" Shedlock)
Yield-Curve Flattening Gets New Life After Inflation Fears Subside (Bloomberg)
10 years after the financial crisis, have we learned anything? (CNN Money)
Cramer on 2008 crisis: It could happen again 'because no one went to jail the first time' (CNBC)
A Decade After Bear's Collapse, the Seeds of Instability Are Germinating Again (Wall Street Journal)
U.S. CEO Optimism Hits Record (Bloomberg)
Yield Curve Turns Threatening – Again (DollarCollapse.com)
Fed Admits 'Yield Curve Collapse Matters' (ZeroHedge)
It's Just Starting: Moody's Warns A Deluge Of Retail Bankruptcies Is Coming (ZeroHedge)
Economist Lacy Hunt: These Conditions Preceded The Last 7 Recessions (Forbes)
Subprime Auto Bonds Caught in Vise of Rising Costs, Bad Loans (Bloomberg)
Goldman, Atlanta Fed Slash Q1 GDP Forecasts Below 2.0% (ZeroHedge)
America's inflation problem isn't high wages, it's high rent (MarketWatch)
Investors "Unconcerned" About Record Corporate Debt (Dollar Collapse.com)
Trillion-Dollar Deficits Far as the Eye Can See (Daily Reckoning)
The Everything Bubble – Waiting For The Pin (David Stockman)
---
Earlier on Real Investment Advice
Is The U.S. Economy Really Growing? (Peter Cook, CFA)
Why It's Right To Warn About A Bubble For 10 Years (Jesse Colombo)
Are U.S. Treasury Bonds Breaking Out? (Jesse Colombo)
BTFD or STFR? (Michael Lebowitz)
Technically Speaking: Chart Of The Year? (Lance Roberts)
March Madness For Investors (Michael Lebowitz)
Is The Dot.Com Bubble Back? (Lance Roberts)
Volatility Is Back (John Coumarianos)
---
Jesse Colombo is an economic analyst and Forbes columnist who was recognized by the London Times for warning about the U.S. housing and credit bubble as a university student. Jesse continues to warn about dangerous post-2009 economic bubbles and has over 100,000 social media followers. Jesse graduated with a Bachelor of Science (cum laude) from Stony Brook University.
2018/03/16
Also Read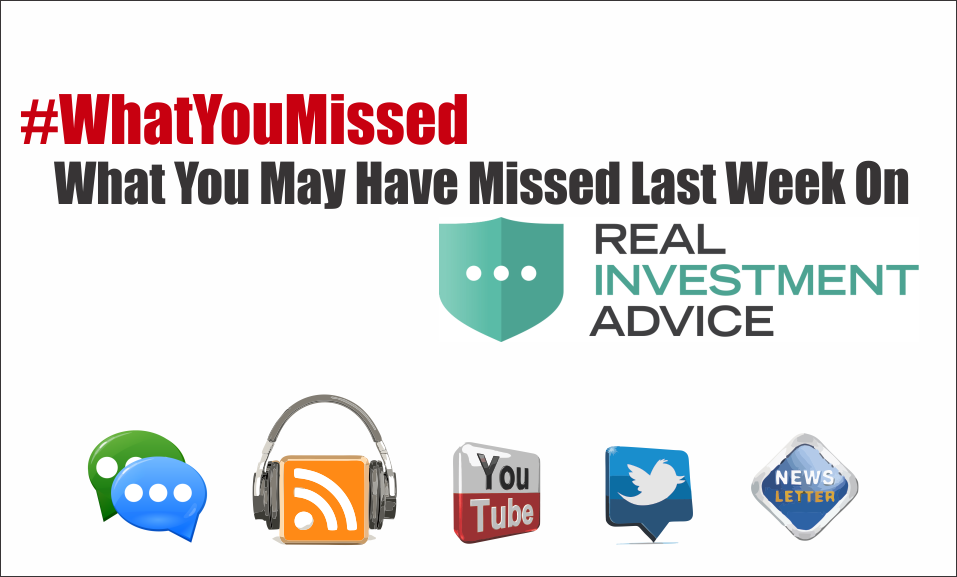 #WhatYouMissed On RIA This Past Week
Jun, 21, 2019
Trump's Trade War Is Paralyzing Business
Jun, 21, 2019
◄ back to

all posts