Volatility Makes An Appearance 09-09-16
By Lance Roberts | September 10, 2016
Print Friendly
MISS ONE? See Our Previous Web/Seminars Here
---
In Remembrance Of 9/11
"So often we judge other groups by their worst examples, while judging ourselves by our best intentions. And this has strained our bonds of understanding and common purpose.

But Americans, I think, have a great advantage. To renew our unity, we only need to remember our values. We have never been held together by blood or background. We are bound by things of the spirit – by shared commitments to common ideals.


At our best, we practice empathy, imagining ourselves in the lives and circumstances of others. This is the bridge across our nation's deepest divisions. And it is not merely a matter of tolerance, but of learning from the struggles and stories of our fellow citizens, and finding our better selves in the process.

At our best, we honor the image of God we see in one another. We recognize that we are brothers and sisters, sharing the same brief moment on earth, and owing each other the loyalty of our shared humanity.

At our best, we know we have one country, one future, one destiny. We do not want the unity of grief. Nor do we want the unity of fear.

We want the unity of hope, affection, and high purpose." – George W. Bush
---
Volatility Returns With A Vengeance
Over the last several weeks, I have been discussing the extremely suppressed levels of volatility in the market and the volatility hedges I was adding to portfolios. To wit:
"The level of "complacency" in the market has simply gotten to an extreme that rarely last's long.

The chart below is the comparison of the S&P 500 to the Volatility Index. As you will note, when the momentum of the VIX has reached current levels, the market has generally stalled out, as we are witnessing now, followed by a more corrective action as volatility increases.

Disclosure: I am currently long the volatility index as of this past Monday.

The bet on a sharp rise in volatility is a hedge against a sharp reversion in asset prices as the high level of"complacency" unwinds."
While it seemed for a while that volatility had been completely eliminated from the market by an ever present Fed, I warned this was a dangerous assumption to make.
On Friday, volatility returned with a vengeance.
Analysts, the media, and Wall Street talking heads rushed to grab every excuse available to explain the sudden sell-off on Friday from the Fed, ECB, and Japan to interest rates and the dollar. However, the reality is I have been warning about a pending correction over the last month as market extensions had reached extremes.
"Despite a 'belief' that 'This Time Is Different (TTID)' due to Central Bank interventions, the reality is that it probably isn't. The only difference is the interventions have elongated the current cycle, and has created a greater deviation, than what would have normally existed. What is 'not different this time' is the eventual reversion of that extreme will likely be just as damaging as every other previous bear market in history.

But, of course, 'TTID' is the old Central Bank driven mantra, today it is 'There Is No Alternative (TINA).' As stated, regardless of what you call it, the results will eventually be the same."

Charts Updated Through Friday's Close
"While the market has continued to consolidate gains over the last few weeks, the overbought conditions still remain. As I stated earlier this week:

The market, on a short-term basis, remains in extreme overbought territory. This needs to be relaxed somewhat before additional equity exposure is added to portfolios. As shown, a reversion to the current bullish trend line, which coincides with the market's recent breakout levels, is a likely target in the short-term.

However, there is a more than reasonable chance, as I laid out two weeks ago for a deeper correction in the next 60-days. The chart below shows the potential drawdowns from current levels."
"Here is the point. It would take a correction from current levels to break 2000, which is very important support for the markets currently, to even register a 10% correction.

Given the current bullish exuberance for the market, this is probably unlikely between now and the election. Therefore, even a "worst case" correction currently would likely be an 8.5% drawdown back to major support. Of course, for most individuals, even such a small correction would likely feel far more damaging.

Let's take a look at some of the issues that suggest a reversion in prices is likely coming sooner rather than later."
As noted above, we are now approaching a 3% correction from recent highs.
Of course, this is why I have been suggesting over the last several weeks that investors should positions themselves for such a potential "rapid reversion." From last week:
"As I have been repeatedly stating over the last few weeks, as boring as it has been, there has not been enough of a correction of the current overbought condition to justify increasing equity allocations in portfolios yet. This is despite the fact the model has been adjusted higher to represent the target levels of equity exposure we want to migrate toward."
Step 1) Clean Up Your Portfolio
Tighten up stop-loss levels to current support levels for each position.
Hedge portfolios against major market declines.
Take profits in positions that have been big winners
Sell laggards and losers
Raise cash and rebalance portfolios to target weightings.
Step 2) Compare Your Portfolio Allocation To The Model Allocation.
Determine areas requiring new or increased exposure.
Determine how many shares need to be purchased to fill allocation requirements.
Determine cash requirements to make purchases.
Re-examine portfolio to rebalance and raise sufficient cash for requirements.
Determine entry price levels for each new position.
Determine "stop loss" levels for each position.
Determine "sell/profit taking" levels for each position.
(Note: the primary rule of investing that should NEVER be broken is: "Never invest money without knowing where you are going to sell if you are wrong, and if you are right.")
Step 3) Have positions ready to execute accordingly given the proper market set up. In this case, we are looking for a pullback to reduce the extreme overbought condition of the market without violating any major levels of support.
---
Time To Buy? Or Sell?
So, what do we do now? Is it time to increase equity exposure to target model weights OR is there more to this corrective action left?
The Bull Case (Buy The Dip):
There is little reason to believe at the moment the current bull market has ended. I say this for the following reasons:
Central Banks are still engaged globally which continue to provide liquidity support for the markets.
The Federal Reserve is unlikely to tighten monetary policy in September.
Overall investor sentiment is still in "greed mode."
Intermediate-term "buy" signals remain intact currently.
Bullish trend lines remain supportive.
Short-term oversold conditions have been achieved.
The Bear Case (Deeper Correction)
The problem is despite the bullish supports that currently remain, the list of bearish detractions has grown markedly in recent months.
Economic data continues to deteriorate. (See here)
Fundamentals remain detached from prices. (See here)
Current oversold condition is in conjunction with momentum "sell signal" (see chart above.)
Intermediate-term "buy signals" are close to being reversed from high levels (see first chart below.)
Long-term "sell signals" have been triggered (see second chart below)
If the market fails to hold short-term support, a deeper correction could begin to develop. A violation of the long-term bullish trend from the 2009 lows would be a key indication of a trend change in the market. Currently, that level is around 2050.
I want to give this current market action a few days to play itself out. As shown in the chart below, the oversold condition of the market (green dots on bottom) suggest a very likely bounce next week. However, as I have highlighted (blue boxes) bounces near market tops have generally preceded eventual deeper declines.
Over the last couple of months, I have been laying out the case to increase equity exposure in portfolios. With longer-term "buy signals" still intact, along with the long-term bullish trend, this remains a cyclical bull market currently.
Therefore, I remain on the lookout for an opportunity to "SAFELY" increase equity exposure in portfolios. That opportunity has not yet presented itself as of yet.
There is also, at this late stage of the bull market cycle, a chance it may not.
Monday's action will give us a better clue as to our next steps. Be sure and catch this coming week's "Technically Speaking" post on Tuesday for an update.
---
You Are Probably Doing It Wrong
The downfall of all investors is ultimately "greed" and "fear."
They don't sell when markets are near peaks, nor do they buy market bottoms. However, this does not just apply to individuals but the majority of advisors as well.
When I read articles from advisors/managers promoting "buy and forget" strategies it is for one of three reasons. They either can't, don't want to, or don't know how to manage portfolio risk. Therefore, the easy message is simply:
"You just have to ride the market out. Long-term it will go up. But hey, let me charge you a fee for holding your stuff in an account."
The reality is that markets do not return 6%, 8% or 10% annually, and spending years making up previous losses is not a way to successfully obtain retirement goals. (Read this)
It is also worth pointing out that those promoting these "couch potato" methodologies are generally out in full force near peaks of bull market cycles, and are rarely heard of near bear market bottoms. This is why, as I discussed in "Why You Still Suck At Investing," investors consistently underperform over long periods of time. To wit:
In 2015, the 20-year annualized S&P return was 8.19% while the 20-year annualized return for the average equity mutual fund investor was only

4.67%

, a gap of 3.52%.
Despite commentary which suggests this is the "most hated bull market" ever, the reality is that the majority of investors remain heavily weighted towards equity exposure.
In other words, due to the ongoing Central Bank interventions, investors are now more confused than ever.
While the sentiment data suggests investors are indeed worried about a stock market crash, they are doing nothing about it.
Harley Bassman from Pimco summed it up well:
"The financial markets are at present confounded by a plethora of uncertainties that once again prove truth is stranger than fiction. Over one-third of European and Japanese sovereign debt sports a negative yield – an unprecedented occurrence. While not causal, this rate structure likely is tangentially related to both Brexit and the divisive U.S. presidential election. Thus the conundrum of a road ahead that is full of potholes even as many financial risk measures are near their historical lows.

The implicit purpose of quantitative easing (QE) and a zero interest rate policy was to generate asset substitution; that is, to encourage investors to switch from painfully low-yielding but "risk-free" cash or sovereign debt to other assets that would more fully support economic growth. (Of course, this does invite the question as to whether a sovereign bond with a negative yield is "risk-free.")

Notwithstanding a few catcalls, most agree that these policies have so far been quite effective. The concern is that medicines, whether pharmaceutical or financial, should have a prescribed dosage that cannot be exceeded. This should be especially true for home remedies like QE that have only recently been advanced to wider Phase II trials.

Investment managers who a scant nine years ago promised to never again 'keep dancing while the music is playing' are now waltzing with 30-year U.S. Treasury securities at 2.25% and selling both interest rate and equity options (both explicitly and implicitly) at prices that leave little room for error.

Central banks (with good reason) have taken monetary policy to uncharted territory, demographic trends still have seven to nine years before they reverse, and our politicians may take us down an unexpected path, but my mantra is unchanged: "It is never different this time." So while these risk signals may be more policy-driven than fundamental, I can assure you the tides of risk will flow eventually.

Cinderella still has time to find that glass slipper, as the clock has not yet rung its final chime. But let there be no doubt that the bells have begun to toll – are you listening?"
Well, are you?
---
THE MONDAY MORNING CALL
The Monday Morning Call – Analysis For Active Traders
---
Bonds Take It On The Chin?
This past week there was ample commentary suggesting interest rates were set to "soar" higher and the death of the "bond bull market" was finally here. While such commentary is always inevitable whenever rates rise for any given reason, it is hardly the case.
First of all, as I have stated previously, interest rates do not function in isolation. They are a function of economic growth over time as borrowing costs are driven by the demand for credit given the return on investment generated from borrowing activities. In other words, money isn't borrowed at 4% interest if the return on the use of those borrowed funds is 3%.
The chart below proves this.
Given that interest rates had gotten extremely oversold during the "Brexit," money poured into bonds for safety, it is not surprising to see rates have a reflexive move higher. What we saw on Friday was likely rate "shorts" being blown out of positions.
However, interest rates are now at extreme overbought levels only seen near peaks in interest movements AND pushing on the downtrend line from 2015. This will likely prove to be a decent opportunity to rebalance bond exposure to target levels in portfolios next week.
I will be adding more bonds to portfolios next week as well.
Interestingly, as I stated last week:
"With 10-year rates now back to an overbought condition (bonds now oversold), and pushing the accelerated downtrend line that began with the conclusion of QE3, the most likely movement will be down in conjunction with a 'risk-off' move in the markets."
Importantly, while interest rates could possibly tick higher to the long-term downtrend line at 2.1%, (OMG, run for the hills), the reality is the economy is not growing strongly enough to support substantially higher rates which will push the economy more quickly towards the next recession.
Of course, during recessions interest rates fall sharply which is why I still suspect, given the majority of global economies in negative territory, them to ultimately approach zero.
---
Watch The Dollar
While the dollar stumbled slightly this week, the uptrend in the dollar remains intact. As I noted previously higher rates in the U.S., as compared to the rest of the world, will attract inflows. Such will continue to suppress both oil prices AND earnings. To wit:
"While Central Banks have gone all in, including the BOJ with additional QE measures to bail out financial markets and banks following the 'Brexit' referendum, it could backfire badly if the US dollar rises from foreign inflows. As shown below, a stronger dollar will provide another headwind to already weak earnings and oil prices in the months ahead which could put a damper on the expected year-end 'hockey stick' recovery currently expected. "
Unlike the stock market which is pushing extreme overbought levels, the dollar is at an extreme oversold condition and has only started a potential move higher. This is something to pay very close attention to in the months ahead due to the dollar's impact on exports, earnings, and commodity prices.
As noted, with interest rates negative in many areas of the world, the push of capital into the U.S. for a higher return on reserves remains likely for now.
---
Model Update
S.A.R.M. Sector Analysis & Weighting
As I have been repeatedly stating over the last few weeks, as boring as it has been, there has not been enough of a correction of the current overbought condition to justify increasing equity allocations in portfolios yet. This is despite the fact the model has been adjusted higher to represent the target levels of equity exposure we want to migrate toward.
Well, guess what, we finally broke to the downside. Read the "Time To Buy Or Sell" section in the main body of this missive above.
While actual portfolio equity risk weightings remain below our target of 75% again this week, the odds of a further correction next week keeps us on hold for now until we find a short-term bottom and can redetermine risk/reward ratios.
(Note: This is an equally weighted model example and may differ from discussions of overweighting/underweighting specific sectors or holdings.)
Relative performance of each sector of the model as compared to the S&P 500 is shown below. The table compares each position in the model relative to the benchmark over a 1, 4, 12, 24 and 52-week basis.
Historically speaking, sectors that are leading the markets higher continue to do so in the short-term and vice-versa. The relative improvement or weakness of each sector relative to index over time can show where money is flowing into and out of. Normally, these performance changes signal a change that last several weeks.
As noted above, the recent spike in interest rates has now reached the top of the long-term downtrend and suggests that staples, utilities, and bonds will continue to improve in performance over the next couple of weeks. Such improvement will most likely coincide with an ongoing market consolidation or correction.
Notice in the next to last column to the right, the majority of sectors which have previously been pushing extreme levels of deviation from their long-term moving average have begun to correct those extremes. As I stated previously:
"Such deviations can not, and do not, last long historically. A resolution of those deviations has been occurring with the recent consolidation of the market which providing the necessary risk/reward rebalancing to increase model allocations in the future."
Importantly, if the current pullback is a "buy the dip" opportunity, the sectors that maintain their technical underpinnings and resolve the extreme deviations from short and long-term moving averages will provide good opportunities to add to portfolios.
The two charts below graphically show the relationship of each position's performance relative to the S&P 500 Index. If we are trying to "beat the index" over time, we want to overweight sectors/asset classes that are either improving in performance or outperforming the index, and underweight or exclude everything else.
Sectors Currently Outperforming by >1%
Energy

(Improved last week)
Sectors Currently Performing In Line <>1%
Industrials

(weakening)

Financials

(weakening)

Healthcare

(improving)

Technology

(weakening)

Utilities

(improving)

Discretionary

(improving)
Sectors Currently Under Performing By >1%
Materials

(weakening)

Staples

(improving)
Index/Other Asset Classes Out Performing S&P 500 By >1%
International Bonds

(improving)

High Yield Bonds
Index/Other Asset Classes Performing In-Line With S&P 500 <>1%
Mid-Caps
Equal-Weight S&P 500

(weakening)

Small-Caps

(weakening)

Dividend Stocks

(improving)

Emerging Markets

(weakening)

International Stocks

(weakening)

Domestic Bonds
Index/Other Asset Classes Under Performing S&P 500 By >1%
The risk-adjusted equally weighted model has been increased to 75%. However, as stated above, further consolidation in the markets is needed before making any changes.
Such an increase will change model allocations to:
20% Cash
35% Bonds
45% in Equities.
As always, this is just a guide, not a recommendation. It is completely OKAY if your current allocation to cash is different based on your personal risk tolerance, time frames, and goals.

For longer-term investors, we still need to see improvement in the fundamental and economic backdrop to support the resumption of a long-term bullish trend. Currently, there is no evidence of that occurring.
---
THE REAL 401k PLAN MANAGER
The Real 401k Plan Manager – A Conservative Strategy For Long-Term Investors
---
NOTE: I have redesigned the 401k plan manager to accurately reflect the changes in the allocation model over time. I have overlaid the actual model changes on top of the indicators to reflect the timing of the changes relative to the signals.
There are 4-steps to allocation changes based on 25% reduction increments. As noted in the chart above a 100% allocation level is equal to 60% stocks. I never advocate being 100% out of the market as it is far too difficult to reverse course when the market changes from a negative to a positive trend. Emotions keep us from taking the correct action.
Godot Arrives?
As I stated last week:
"Sometimes it feels as if we are waiting for something that will never come – a reasonable entry point to increase our equity exposure. As I have been repeating over the last several weeks, sometimes it is better to "nothing" rather than to do "something" that turns out to be wrong."
This past Friday is a good example of what can happen if you "guessed wrong."
Over the past several weeks, I have continued to suggest reviewing portfolios, reducing risk, rebalancing and preparing for "whatever comes next." That advice remains this week in particular as we now begin a corrective process. On any bounce in the market early next week continue to clear up your portfolio allocation by:
Tighten up stop-loss levels to current support levels for each position.
Take profits in positions that have been big winners
Sell laggards and losers
Raise cash and rebalance portfolios to target weightings.
Given the correction we are now on the lookout for the following two outcomes into which we can take further actions.
If the market pulls back to support and confirms the recent breakout is indeed a continuation of the bullish long-term trend, we can begin to increase equity risk exposure in portfolios.
If the recent breakout turns out to be a "head fake," the reduction of "risk" protects the portfolio against any substantial decline.
No one knows for sure where markets are headed in the next week, much less the next month, quarter, year, or five years. What we do know is that not managing risk in portfolios to hedge against something going wrong is far more detrimental to the achievement of long-term investment goals due to the inability to recover the "time" lost getting back to even.
If you need help after reading the alert; don't hesitate to contact me.
---
Current 401-k Allocation Model
The 401k plan allocation plan below follows the K.I.S.S. principal. By keeping the allocation extremely simplified it allows for better control of the allocation and a closer tracking to the benchmark objective over time. (If you want to make it more complicated you can, however, statistics show that simply adding more funds does not increase performance to any great degree.)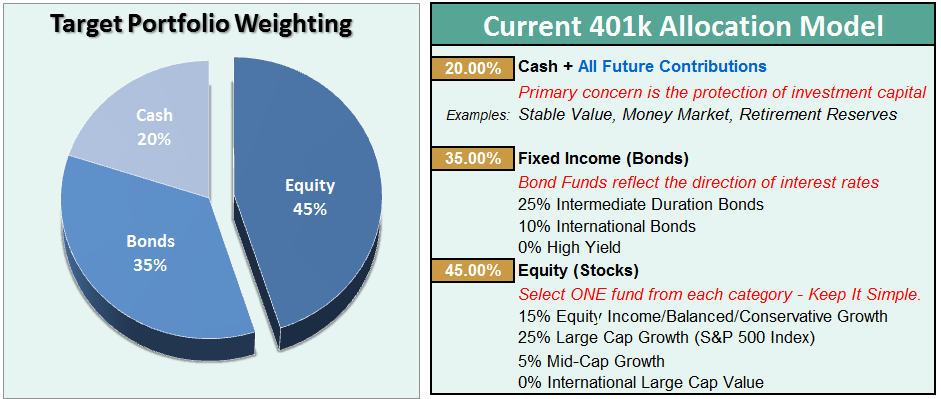 401k Choice Matching List
The list below shows sample 401k plan funds for each major category. In reality, the majority of funds all track their indices fairly closely. Therefore, if you don't see your exact fund listed, look for a fund that is similar in nature.
Save