Trumponomics – The New Hope 12-2-16
By Lance Roberts | December 3, 2016
Print Friendly
MISS THE LATEST WEBINAR? See All Our Previous Web/Seminars Here
---
---
Notice
Starting this week, I am going to start streamlining the newsletter for readability and consistency. However, I would appreciate any comments, criticisms, or suggestions during this process to ensure I am delivering the information you need each week.
Feel free to email me suggestions here. Thank you for your assistance.
Lance Roberts
---
Review & Update
Bullish Exuberance Returns
The Great Bond Crash Of 2016
Oil Deal Likely Won't Last Long
Sector Analysis
401k Plan Manager
---
Review
Since I did NOT produce a newsletter last weekend due to the holiday's, let's start with a review of the broad market.
Following the election, the market has surged around the theme of "Trumponomics" as a "New Hope" as tax cuts and infrastructure spending (read massive deficit increase) will fuel earnings growth for companies, stronger economic growth, and higher asset prices. It is a tall order given the already lengthy economic recovery at hand, but like I said, it is "hope" fueling the markets currently.
"First, the market has moved from extremely oversold conditions to extremely overbought in a very short period. This is the first time, within the last three years, the markets have pushed a 3-standard deviation move from the 50-day moving average. Such a move is not sustainable and a correction to resolve this extreme deviation will occur before a further advance can be mounted. Currently, a pullback to the 50-day moving average, if not the 200-dma, would be most likely."
"Secondly, as discussed above, the advance to 'all-time highs' has been narrowly defined to only a few sectors. As shown the number of stocks participating, while improved from the pre-election lows, remains relatively weak and does not suggest a healthy advance."
The problem with the breadth of the advance is significant. As shown in the sector rotation chart, the current rally has been extremely bifurcated. Such extreme deviations in performance tend not to last long and tend to have rather nasty reversions.
As my friend David Larew (@thinktankcharts) pointed out on Thursday, breath has triggered a short-term sell signal suggesting a pullback to support.
Combine the current backdrop with a sharply higher dollar and interest rates and you have all the makings for a decent correction. This, of course, aligns with my prediction from two weeks ago when I stated:
"However, expect a decline during the first couple of weeks of December as mutual funds and hedge funds deal with distributions and redemptions. That draw down, as seen in early last December, ran right into the Fed rate hike that set up the sharp January decline."
---
Exuberance Returns
I still expect such could very well be the case with a '"Santa Claus" rally into the end of the year as fund managers scramble to add performance before the year-end reporting period comes to an end. This would certainly coincide with the "hope" that investors have currently built into the market during the recent advance.
As I noted on Thursday:
"This post-election surge in investor optimism is shown below. The first chart is the bull/bear ratio of both professional investors (as represented by the INVI Index) and individuals (from AAII). Currently, the level of bullishness has surged to levels more normally associated with intermediate term tops in the market."
"The net bullishness (bulls minus bears) of both individual and professional investors has likewise surged to levels which again have been more historically representative to intermediate term tops in the market."
This exuberance, and risk of a correction, is further confirmed by the CBOE SKEW index which is an option-based indicator that measures the perceived tail risk of the distribution of S&P 500 log returns at a 30- day horizon. Tail risk is the risk associated with an increase in the probability of outlier returns, returns two or more standard deviations below the mean. Think stock market crash, or black swan. This probability is negligible for a normal distribution, but can be significant for distributions which are skewed and have fat tails.
I have taken the SKEW index and divided it by the VIX to create a "fear gauge." To smooth out the volatility of daily data I have used a 50-day moving average. The vertical dashed lines show that peaks in the SKEW/VIX index have corresponded to either short to intermediate-term peaks.
Importantly, you will notice that historically when the gauge has gotten to these levels previously, we have been near major market peaks. Maybe this time will be different, but some caution is likely wise.
This is particularly the case when you combine the underlying fundamentals with the current levels of exuberance. To wit from Jesse Felder yesterday
Valuations via @NickatFP pic.twitter.com/axpniWsSB8

— Jesse Felder (@jessefelder) November 30, 2016
It is unlikely that with valuations currently all pushing upper deciles that a new secular bull market has begun. However, there are many more similarities to the exuberance seen in 1999 versus 1980.
With that said, it is quite likely a bulk of "hope generated" market gains from "Trumponomics" is complete.
While I am not suggesting the market is about to "crash" in a fiery mass, I am suggesting the "ebullience" of the markets over the last 8-years has likely priced in any real net effects of fiscal policy changes at this point.
In other words, changes to fiscal policy will likely only offset retractions of monetary policy.
---
The Great Bond Crash of 2016
Rates did drift slightly higher this week as stated but still well within the context of the long-term downtrend. The chart above shows the long-term trend of the 10-year Treasury going back to 1978 as compared to its RSI index and I have circled the recent "surge" in rates.
When put into this context, the rise is barely noticeable. However, what is notable is that historically whenever the RSI on rates has exceeded 80%, red dashed lines, it has preceded a subsequent decline in rates. In other words, overbought rates are a signal to buy oversold bonds for a potential reversion trade.
However, the coincident surge in both rates AND the dollar have also put the markets at risk of a bigger "impact correction" due to the simultaneous strain the surging dollar and rates put on foreign exchange and economies. History is littered with incidents that have coincided with similar environments.
Sure, this time could be different…it just usually isn't.
As Jeff Gundlach noted on Thursday:
"The strong U.S. stock market rally, surge in Treasury yields and strength in the U.S. dollar since Trump's surprising presidential victory more than three weeks ago look to be 'losing steam.'

The bar was so low on Trump to the point people were expecting markets will go down 80 percent and global depression — and now this guy is the Wizard of Oz and so expectations are high. There's no magic here."
"Investors are misguided in betting that promised tax cuts, infrastructure spending and deregulation will spur faster growth, as the benefits from such fiscal stimulus likely would be temporary.

A strong dollar and continuing structural headwinds including aging demographics, de-globalization trade policies, and accelerating debt-to-GDP in almost all countries at now higher interest rates, promise to contain productivity at perhaps 1 percent annual growth rates and therefore real GDP growth at 2 percent."
Here is the most important point to remember. Just two months ago, we were told that U.S. equities should rise because bond yields would be low forever, discount rates should trend toward 0%, and therefore equity valuations should trend toward infinity over time.
Now, we're told that despite bond yields surging we can still count on U.S. equities trending toward infinity because they're better positioned to absorb higher rates than emerging markets.
It can't be both.
The chart below shows the 10-year Treasury rate the German Bund rate. Not surprisingly, since rate spreads directly impact economic activity, trade, and currency flows, whenever spreads widen to such a degree, bad things have tended to happen.
Just pay attention.
---
Oil Deal Won't Last Long
This week, OPEC managed to reach the much-hyped agreement to cut output in a bid to boost oil prices. The ministerial meeting in Vienna is said to have clinched a deal to cut output by 1.2 million barrels per day to 32.5 million barrels per day, the deal comes with a condition that non-OPEC producers also cut production which will be discussed in early December. This is usually where the deal falls apart.
The deal is only for 6-months, and the reality is there is very little expectations that OPEC, or the other producers, will actually comply. Furthermore, the deal will only reduce oil output very modestly and will do little to impact the long-term supply/demand imbalance. Furthermore, any cuts made by OPEC will likely be more than offset by increases in U.S. production which is already on the rise particularly in the Permian Basin.
However, oil traders remain extremely long oil at this point and as such a reversal of oil, once again, back to the low 40's is very likely.
Furthermore, note the very high correlation between the direction of oil contracts and the S&P 500.
In 2014, I recommended that all my readers get out of oil-related stocks as the deviation from the underlying commodity price had become too great. As shown, that deviation is back with oil at extreme long-term overbought conditions.
As David Hunt, CEO of the asset management group that manages US$1 trillion in assets told Bloomberg last week, the oil price surge today is "probably not" sustainable.
"For us who are long-term investors, we tend to look at the group of people who are gathering in Vienna and say 'they're fighting against history… The cost of producing crude, largely due to fracking technology, has dramatically changed the marginal economics of oil. Fundamentally the economics of oil have changed and we now need to work that through how different industries are pricing, and how commodities are priced on the basis of that."
For those long energy-related equities, this is likely a good time to take in profits and reduce exposure looking to re-enter trading positions on a retracement back to oversold conditions.
---
Market & Sector Analysis
Data Analysis Of The Market & Sectors For Traders
---
S&P 500 Tear Sheet
Thank you for your recent suggestions. We are working on adding some momentum indicators to the tear sheet.
If you have any suggestions or additions you would like to see, send me an email.
---
Sector Analysis
Comments
While the markets seemed to rally broadly last week, such was really not the case when we looking at individual areas. While Financials led the charge, on hopes that Trump will repeal "Dodd-Frank" allowing banks to once again "run amok;" Small and Mid-cap stocks, Energy (on oil cut deal from OPEC) and Industrials outperformed the index as well. The problem, as stated above, is that a stronger dollar and higher interest rates will likely hamper this optimism sooner rather than later. This is particularly the case with Small and Mid-Cap companies that are the most susceptible to monetary tightening.
(Note: I have changed the sector and major market analysis charts to a 50/200 DMA crossover signal and embedded an overbought/sold indicator.)
The table below shows the relative performance of each sector as compared to the S&P 500 over a 1, 4, 12, 24 and 52-week basis. Historically speaking, sectors that are leading the markets higher continue to do so in the short-term and vice-versa. The relative improvement or weakness of each sector relative to index over time can show where money is flowing into and out of. Normally, these performance changes signal a change that lasts several weeks.
(Note: The buy/sell signal at the far right is a binary result based on the crossover of the short and long-term moving averages and is not a specific recommendation.)
Utilities, REIT's, Staples, Bonds, Gold, and Healthcare have remained under pressure this past week. While Basic Materials, Financials, Industrials and Energy are beginning to push extremes.
Importantly, notice the cluster of assets that are grossly underperforming the S&P 500 currently. THIS DOES NOT LAST LONG and tends to historically lead to rather swift reversions in the trade. Everything is currently pointing to this being the case so profit taking and rebalancing is strongly advised.
---
THE REAL 401k PLAN MANAGER
The Real 401k Plan Manager – A Conservative Strategy For Long-Term Investors
---
There are 4-steps to allocation changes based on 25% reduction increments. As noted in the chart above a 100% allocation level is equal to 60% stocks. I never advocate being 100% out of the market as it is far too difficult to reverse course when the market changes from a negative to a positive trend. Emotions keep us from taking the correct action.
More Optimistic
As discussed over the last couple of weeks, the markets not only reversed the breakdown, and rallied to new highs, as expected previously, investor confidence has exploded since the election.
That's the good news.
However, this rally is likely done for the moment and we need to wait for a bit of rebalancing before increasing target exposures heading into the new year.
Use the rally from last week to clean up portfolios as detailed in November 4th missive.
The big risk in the near-term is when the markets come to grips with the rise in rates, simultaneously with a stronger dollar, which will quickly erode earnings in an already over-valued market. IF the Fed hikes rates in December, we could well see another January swoon as we saw this year as much of the backdrop is still extremely weak.
The lower allocations to "risk" in portfolios has lowered volatility and kept principal safe over the last several months. With the election now past us, we can start making decisions about the "seasonally strong" period of the year.
However, as noted in the chart above, we have now triggered a secondary "sell" signal that keeps us on alert in the short-term. If the markets can continue to maintain some strength this should be reversed by the end of the year.
If you need help after reading the alert; don't hesitate to contact me.
---
Current 401-k Allocation Model
The 401k plan allocation plan below follows the K.I.S.S. principal. By keeping the allocation extremely simplified it allows for better control of the allocation and a closer tracking to the benchmark objective over time. (If you want to make it more complicated you can, however, statistics show that simply adding more funds does not increase performance to any great degree.)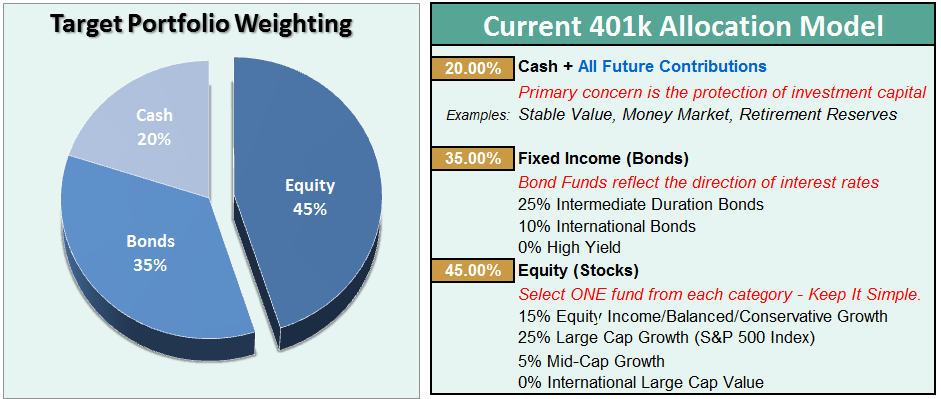 401k Choice Matching List
The list below shows sample 401k plan funds for each major category. In reality, the majority of funds all track their indices fairly closely. Therefore, if you don't see your exact fund listed, look for a fund that is similar in nature.
Save