◄ back to

all posts
Written by Lance Roberts | Jun 20, 2019
HOW TO READ THE CHARTS
There are four primary components to each chart:
The price chart is contained within the shaded area which represents 2-standard deviations above and below the short-term moving average.
The Over Bought/Over Sold indicator is in orange at the top.
The Support/Resistance line (green) is the longer-term moving average which also acts as a trailing stop in many cases.
The Buy / Sell is triggered when the green line is above the red line (Buy) or vice-versa (Sell).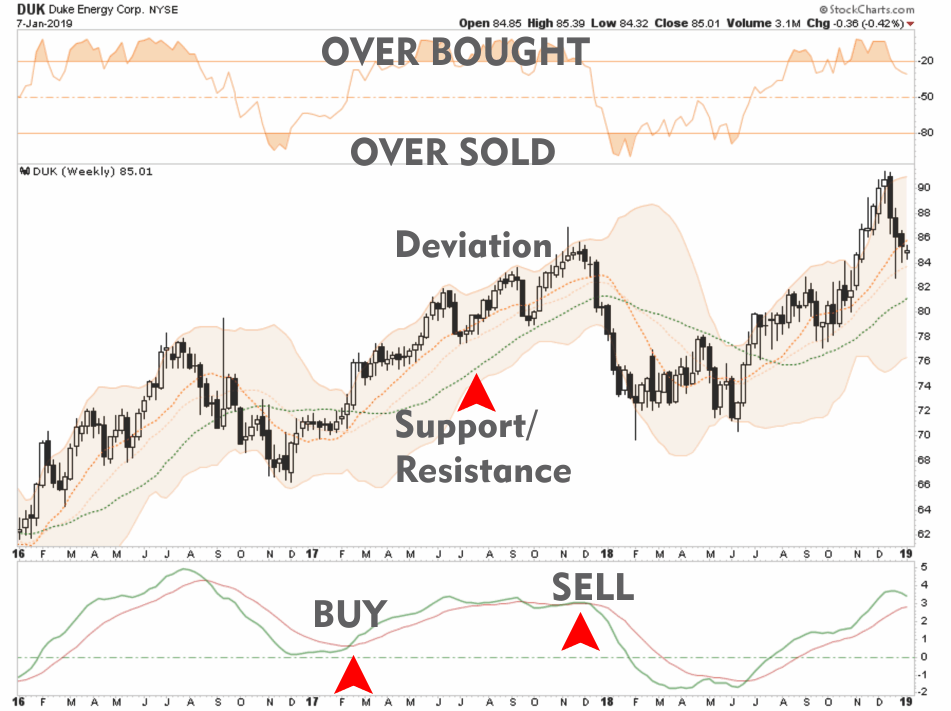 LONG CANDIDATES
BMY – Bristol Meyers
As stated last week, "This is not a great long-term set up but for a short-term trade there is an opportunity."
BMY has registered a short-term buy signal.
We recommended buying BMY at current levels last week.
Target is $52
Hold current positions
Stop-loss is at recent lows of $45.
ADBE – Adobe Systems, Inc.
ADBE broke out to all-time highs this week while maintaining its current buy signal.
While ADBE is overbought on a short-term basis, breakouts are usually bullish for continuing advances.
Buy 1/2 position at current levels and look for a retest of support to add the second half.
Stop-loss is set at $270
CMI – Cummins, Inc.
Despite a slowdown in trucking and hauling, CMI continues to do well.
CMI maintained its "buy" signal last week and held support.
Buy 1/2 position on a breakout above $170 and add the second half on a retest of support following the breakout.
Stop-loss is $160
REG – Regency Realty Corp.
REG has a lot of catching up to do in the REIT space and the breakout above previous tops may be a sign of a pending advance.
The "buy signal" remains intact but REG is overbought.
Buy 1/2 position at current levels and add the second half on a retest of support.
Stop-loss is set at $66
INCY – Incyte Corp.
INCY broke out of a short-term consolidation pattern which is promising.
The "buy" signal remains intact and a break above $80 could see a stronger rise.
Buy 1/2 position now with a target of $80. Add the second half position on a break above $80.
Stop loss is $75
SHORT CANDIDATES
AMTD – TD Ameritrade Holding Corp.
As we noted last week, "AMTD is not looking good. With a sell signal being triggered and the downtrend holding firm, it looks like AMTD is going to break to the downside of this consolidation pattern."
That happened this past week and a "sell signal" was triggered.
Short AMTD on at current levels.
Stop-loss is set at $54
Target for trade is $40.
CRM – Salesforce.com
CRM is hanging on to critical support.
A break below $150 could see CRM test $125-130 in fairly short-order.
Short CRM on a break below $150
Stop-loss is $155
Target is $120
EA – Electronic Arts
EA is in a very serious downtrend and there are lot's of fundamental problems with the company.
EA is close to triggering a sell signal which will put $70 into focus.
Short EA at current levels with a stop-loss at $85
Downside target is $70
GWW – WW Granger, Inc.
GWW remains on a sell-signal and a major downtrend. The recent rally looks to fail at overhead resistance which provides a decent short-entry.
Short 1/2 position in GWW at $280
Stop-loss is $290
Add second half of the position on a break below $260
Target for trade is $160-170
EMN – Eastman Chemical Co.
Last week, we laid out the premise for shorting EMN stating: "On a newly issued sell signal following a brief bounce, more downside is currently likely."
The parameters were to "short on a break of previous support at $67.50 with a stop-loss at $75"
EMN did not hit our target last week, but is now running into resistance but there is upside to $80.
We will revisit this position again next week.
No action this week.
Target for trade is $60
---
Lance Roberts is a Chief Portfolio Strategist/Economist for RIA Advisors. He is also the host of "The Lance Roberts Podcast" and Chief Editor of the "Real Investment Advice" website and author of "Real Investment Daily" blog and "Real Investment Report". Follow Lance on Facebook, Twitter, Linked-In and YouTube
Customer Relationship Summary (Form CRS)
2019/06/20
Also Read
Just How Transitory is Inflation?
Jul 28, 2021
◄ back to

all posts