Is The Bull Market In Danger 10-14-16
By Lance Roberts | October 15, 2016
Print Friendly
MISS THE LATEST WEBINAR? See All Our Previous Web/Seminars Here
---
Over the last couple of months, I have been discussing the importance of the bullish trend line that began this past February. As I stated just this past Tuesday:
"However, a major decision point is rapidly approaching which will decide the fate of the market for the rest of the year.

In the daily price chart below the tightening consolidation of the market is evident."
Chart Updated Through Friday Morning
"Notice in the bottom part of the chart the market currently remains on a sell signal. That sell signal is problematic for two reasons:

1) "Sell signals" combined with overbought conditions tend to lead to at least short-term corrections.

2) "Sell signals formed at very high levels, such as currently, suggests limited upside and larger correction probabilities."
Importantly, the market broke that bullish trend line this past week with the market remaining overbought and on a "sell signal." These combined events put further downside pressure on the markets into next week.
If we zoom in we can get a little clearer picture about the breakdown.
The two dashed red lines show the tightening consolidation pattern more clearly. As I stated on Tuesday:
"With the pattern becoming much more compressed it is quite likely a breakout is going to occur within the next few days. The direction of that breakout will be most important."
Currently, the market has been able to defend crucial support at the level where the markets broke out to new highs earlier this year. However, the market now finds itself "trapped" between that very crucial support and a now declining 50-dma and the previous bull trend support line.
David Larew (@ThinkTankCharts) had a very good chart on this on Friday. This down trending top, combined with falling moving averages, provide significant overhead resistance keeping downward pressure on stock prices.
It is important, as an investor, is not to "panic" and make emotionally driven decisions in the short-term. All that has happened currently is a "warning" you should start paying attention to your investments.
As I have written many times in the past, by the time an event occurs where a potential signal is issued, the market is generally either overbought or oversold. Rather than immediately acting on the signal when it occurs, it is often better to wait for some correction of that overbought or oversold condition before taking action.
The chart below shows this a bit more clearly.
As shown the number of stocks trading below their 50-dma is pushing levels more normally associated with short-term trading bottoms. This does NOT MEAN it is a "BTFD" (Buy The F***ing Dip) moment.
What it does suggest is the market is oversold enough on the short-term for a trading bounce back towards previously broken support which now acts as new resistance. Such a reflexive bounce will provide investors the opportunity to proactively rebalance portfolio risk and raise some cash.
As noted in David's chart above, it is very likely we will get a small reprieve in selling pressure temporarily allowing for a bounce next week to rebalance risk into. However, as shown in the WEEKLY chart below, there is ample evidence we are currently working through a bigger correction process that is not yet complete. This should keep portfolio allocations tilted to a more conservative posture.
This is particularly the case given the two confirming "sell signals" in the lower part of the chart. While it is currently very early, previously when both signals have been triggered further corrective action followed. Given the high levels at which both signals are currently triggered, it pushes the risk of a deeper correction higher than many would likely suspect.
For now, particularly as we enter into earnings season, caution is advised.
---
Dollar Rallies As Expected
Back in July of this year, I began writing about how the dollar will likely continue to strengthen in the months ahead. To wit:
"While Central Banks have gone all in, including the BOJ with additional QE measures of $100 billion, to bail out financial markets and banks following the 'Brexit' referendum, it could backfire badly if the US dollar rises from foreign inflows. As shown below, a stronger dollar will provide another headwind to already weak earnings and oil prices in the months ahead which could put a damper on the expected year-end 'hockey stick' recovery currently expected."
Here is an updated version of that chart.
As mentioned…the earnings outlook could be in jeopardy. The chart below compares recent months to where estimates stood in January of this year. As of October 1st, forward estimates are at their lowest levels yet. (Let the "beat the earnings" game begin.)
"IF we assume those estimates are correct, now the forward P/E rises to 19.64x earnings. Certainly not cheap.

But even those estimates are a likely a fantasy. Throughout history, earnings are consistently overstated by roughly 33%. This overstatement of estimates can be clearly seen in the chart below."
"If we held Wall Street analysts to their estimates at the beginning of this year, much less the beginning of the previous quarter, 100% of companies would have missed earnings during the second quarter of this year. In fact, in just the past three months, analysts have now ratcheted down their estimates for the third quarter to their lowest levels yet."
The dollar rally could be a real problem with respect to the earnings recovery story going into the end of the year. With an already weak economy, a stronger dollar means weaker exports for companies and a drag on corporate profitability.
Michael Pento noted this problem in his article this past week:
"The free pass on over-hyped stock valuations is now over. And with the S&P 500 trading at 25x reported earnings, this market needs a huge revenue and earnings rebound in the third quarter or the gravitational forces of rising interest rates will send stock prices significantly lower.

The low on Treasury yields is most likely behind us. In fact, the 10-year note yield has risen from 1.36 percent in July to 1.8 percent recently. And the Fed has similarly duped itself into believing asset prices are not in a bubble and that borrowing costs can normalize without hurting equity prices and economic growth. However, both assumptions are extremely far removed from reality.

The truth is that this protracted economic and earnings malaise — that shows no sign of turning around — coupled with record high stock prices and the reversal of a nearly decade-long zero interest policy on the part of the Fed, points to a collapse in equity, bond and commodity prices concurrently. The reversal of the central bank's trickle-down wealth effect could very easily cause a recession to hit the economy hard by the middle of 2017."
Let's take Michael at his word about historically high valuations. Heading into the turn of the century valuations spiked to an astronomically high level driven at first by irrational exuberance and then collapsing earnings. However, prior to that period, every bull market in history ended when valuations approached 23-25x earnings.
The chart below is a thought experiment which compares the inflation adjusted S&P 500 index with Robert Shiller's CAPE which has been capped at 25x trailing earnings. By stripping out the one anomaly, we can find a potentially more realistic view about current valuations and as it relates to expected forward returns.
Given the current level of valuations, if there is a failure of earnings to rebound going into the 4th quarter, the justification of higher valuations is going to become much more difficult to support.
This is particularly the case if interest rates rise further, which will become to crimp further demand for credit, along with a stronger dollar impacting exports.
By the way, don't expect for a moment the Fed will actually hike rates in December. That particular window has been closed, boarded up and cemented over.
---
Earnings Already Set To Disappoint
Speaking of earnings set to disappoint, Jeffrey Snider made a good note of this possibility.
"In terms of earnings, Q3 earnings season is underway and like Chinese exports it is already set to disappoint yet again. Some estimates for S&P 500 EPS are still stubbornly negative.

According to FactSet, analysts collectively expect S&P 500 companies' third-quarter earnings to show a roughly 2 percent drop from the third quarter of 2015. This, according to FactSet, would represent the sixth straight quarter of year-over-year earnings declines, for the first such streak going back to the third quarter of 2008, which is when the company started collecting such data.

And that is surely one of the factors playing upon market uncertainty; earnings by now 'should' be growing again after so much prolonged negativity.

As I wrote several months ago, 'The market appears to be waiting for earnings to 'correct' rather than prices.' As earnings increasingly refuse the license, markets are left contemplating that which was thought impossible; that the economy and fundamental environment as represented by earnings is at best stuck in a protracted and very real form of stagnation (I call it depression). At prices that are far too often valued comparable to only dot-com levels, this is a huge problem as investors are paying huge premiums for at best malaise. You don't pay 20+ times earnings for a rut, those premium prices are reserved for actually rapid and inarguable growth."
So, technically the set up is poor. The fundamentals support the technicals. But what you need is a complacent market to create the opportunity for a "panic selling" environment.
Fortunately, this is the most "hated" bull market ever….or is it?
---
Hibernating Bears And Market Tops
Dana Lyons had a very interesting piece out last week that also provides support for a deeper correction process in the works.
"There are a few surveys out there that point to very subdued investor sentiment of late. It is an interesting phenomenon considering the fact that major stock averages have remained relatively close to their respective 52-week, or all-time, highs for several months. This would seem to represent the proverbial "wall of worry" that stocks like to use as a climbing aid. However, we're not so sure this read is reliable. That's because other, real-money, indicators do not necessarily corroborate this story. One such metric is the amount of assets in inverse, or bearish, mutual funds, such as those offered by Guggenheim (formerly Rydex).

Rydex funds are geared toward more active or tactical traders. Therefore, tracking the level of assets in their funds can provide a glimpse into the prevailing investor sentiment among the group. Rydex provides the level of assets in their mutual funds on a daily basis so it makes this easy to track. Interestingly, and contradictory to some of the subdued survey readings, on Tuesday, October 11, the level of Rydex bearish fund assets dropped to the lowest level since August 20, 2015. Of course, that was during the onset of a nasty plunge in the stock market. (FYI, this calculation is based on a select number of the most popular Rydex inverse funds that we track. It is not a comprehensive tally and may differ from other vendors.)"
"Over the past month, the stock market has experienced some turbulence, including in early September and early this week. And while this 'weakness' hasn't been significant by traditional historical standards, compared to the placid run-up since early July, it would qualify as relative weakness. So how have Rydex traders reacted? As the chart demonstrates, they've reacted by dumping their Bear funds – to the point where assets in such funds are the lowest since August 2015.

Our assessment of this development is that Rydex traders are quite complacent and unconcerned about imminent market weakness. From a contrarian basis, this is a negative for stocks, in our view, and represents an elevated level of potential risk. One reason is that, if more selling does occur, these traders are ill-prepared, position-wise, to withstand many losses before they feel the pain. That low level of hedging could, lead them to increase their selling or hedging in search of protection during the sell off. In turn, that selling can lead to an acceleration of market losses."
The whole piece is well worth reading but you get the point. High levels of complacency are important when something causes them to reverse sharply. The problem is that we never know what the event, or catalyst, will be that causes the flight to safety.
The overall backdrop for investors is not currently favorable for excessive equity exposure. However, technically, the market has not broken which would require a significant reduction in portfolios currently.
As stated previously, this is not a market to become overly complacent with. While this may turn out to be another "buy the dip" opportunity, there are enough warning signs that suggest the reward is not currently worth the risk.
---
THE MONDAY MORNING CALL
The Monday Morning Call – Analysis For Active Traders
---
With the majority of the technical and fundamental backdrop covered above, there is not much more to add. However, I did want to pick up this one additional note David Larew dropped last week with reference to George Lindsay's "3-Peaks and a Domed House" formation.
I dug around a bit and found a good description of the formation by Jeff Hirsch:
"The term "Three Peaks and a Domed House Top" is just an easy way to remember and recognize this recurring market pattern. Occurring at nearly every major U. S. equity market top, the pattern illustrates consistent market behavior. The Domed House Top is akin to a head-and-shoulders top."
"The pattern describes how markets tend to come off a low and move up until a resistance point is reached (point 3). Then after two attempts to move higher (points 5 and 7) there is a sell-off to point 10. This is the 'Separating Decline' that separates the Three Peaks from the Domed House. Point 10 is always lower than either point 4 or 6, often both. If is not lower it does not qualify and the pattern is nullified. The Domed House starts with a base between points 10 and 14. A rally usually ensues and forms another higher base (points 15 to 20, Roof of the First Story). Then from there the final surge to the high creates the Dome from points 21 to 25. The drop-off returns to the vicinity of point 10.

Lindsay based these formations after studying 150 years of market charts back in 1968. When looking at the point 23 dates in Lindsay's original they all matched up with a bull market high. Additionally, Lindsay stated that the pattern 'may occur on either a major or minor scale. When it is of major scope, a typical formation begins at a bear market low.'

Lindsay noted that minor and major formations of Three Peaks and a Domed House often overlapped with a Peak of one being a Dome of another. Sometimes Three Peaks followed a Domed House. Some tops could not be fit into the pattern and do not qualify. But Lindsay did find that, '…the market has followed [the formations] at least 60% of the time…' and that, 'The majority of all major advances ended in a pattern which resembled the Three Peaks and a Domed House.'"
And here is David's analysis that defines it pretty well.
Just an interesting point worth considering.
---
Model Update
S.A.R.M. Sector Analysis & Weighting
Last week, I discussed in this section the importance of an "inside week." To do it once is rare; two in a row is especially so and thus perhaps deserving of attention in the context of this tentativeness over the past few months. As CNBC reported earlier this week:
"'Inside weeks happening several weeks in a row is almost unheard of,' Miller Tabak equity strategist Matt Maley commented Monday on CNBC's 'Trading Nation,' calling it a sign that investors 'don't know what's going to happen next — they don't know what to do with their money.'"
According to CNBC, the last three times two 'inside weeks' in a row were spotted was February 2008, June 2007, and January 2000.
As I have noted previously, there are more than just a few similarities between the current topping process and those previously. While this time could surely turn out differently, let's rationally think about outcomes.
The chart below shows the potential for a bull rally from current levels, which would coincide with a recovery in earnings and economic growth, to 2400. It also shows the potential for a decline back to pattern lows if this current bull cycle does fail.
Here are the potential outcomes assuming an investor, starting with $100,000 in cash, either invests it all here (buys the dip) OR remains in cash.
The biggest problem with being overly bullish at current levels is the risk to the loss of investment capital. Yes, by being bearish, there is a risk of missing out on gains. But missing out on gains is far different than destroying principal which then must be recouped before additional gains towards financial goals can be achieved.
While a loss of 14% during the decline wouldn't seem to be that big of a deal, it requires roughly 17% just to get back to even. In other words, the bearish investor, assuming the markets can immediately string together two back to back years of 10% gains, would have a two-year advantage on the bullish investor that guessed wrong.
There is a massive difference between "missing out" on gains in the "short-term" and destroying principal which has "long-term" impacts.
---
I will update this analysis in Tuesday's Technically Speaking post (click here for free e-delivery)
Let's take a look at the equal weighted portfolio model.
(Note: This is an equally weighted model example and may differ from discussions of overweighting/underweighting specific sectors or holdings.)
The overall model still remains underweight target allocations. This is due to the inability of the markets to generate a reasonable risk/reward setup to take on more aggressive equity exposure at this time.
Relative performance of each sector of the model as compared to the S&P 500 is shown below. The table compares each position in the model relative to the benchmark over a 1, 4, 12, 24 and 52-week basis.
Historically speaking, sectors that are leading the markets higher continue to do so in the short-term and vice-versa. The relative improvement or weakness of each sector relative to index over time can show where money is flowing into and out of. Normally, these performance changes signal a change that last several weeks.
Notice in the next to the last column to the right, the majority of sectors which have previously been pushing extreme levels of deviation from their long-term moving average, have corrected much of those extremes.
Importantly, Financials have now registered, as shown in the last column, a "weekly sell signal" which suggests further weakness in the sector in the near to intermediate term.
There is a broad deterioration across sector performance which suggests overall weakness in the markets will likely continue in the near-term. Some caution is currently advised.
The chart below is the "spaghetti" chart, via StockCharts, showing the relative strength/performance rotation of sectors relative to the S&P 500. If we are trying to "beat the index" over time, we want to overweight sectors/asset classes that are either improving in performance or outperforming the index, and underweight or exclude everything else.
Utilities, REIT's, Staples, Discretionary, Materials, Bonds, Gold, and Healthcare have remained under pressure this past week. This has largely been due to the rise in interest rates. However, that rise in rates looks largely done and suggests a decline in rates from here is much more likely as hopes of a Fed rate hike in December fades along with upcoming economic data.
We remained aggressive buyers of bonds over the last week in anticipation of a rotation back into safety. Such a rotation will likely coincide with weaker than expected economic data and any further correctionary action in markets following a short-term bounce likely next week.
I recommended lifting profits last week in International, Emerging Markets, Small Cap, and Financial sectors which proved prescient. The recent strength in the US dollar will likely continue to weigh on these areas.
Most importantly, given that a bulk of the sectors remain either in weakening or lagging sectors, this suggests the current advance in the market remains on relatively weak footing.
Profit taking should also be focused on Technology stocks as the current outperformance of this sector is very long in the tooth.
The risk-adjusted equally weighted model has been increased to 75%. However, the markets need to break above the previous consolidation range to remove resistance to a further advance.
Such an increase will change model allocations to:
20% Cash
35% Bonds
45% in Equities.
As always, this is just a guide, not a recommendation. It is completely OKAY if your current allocation to cash is different based on your personal risk tolerance, time frames, and goals.

For longer-term investors, we still need to see improvement in the fundamental and economic backdrop to support the resumption of a long-term bullish trend. Currently, there is no evidence of that occurring.
---
THE REAL 401k PLAN MANAGER
The Real 401k Plan Manager – A Conservative Strategy For Long-Term Investors
---
NOTE: I have redesigned the 401k plan manager to accurately reflect the changes in the allocation model over time. I have overlaid the actual model changes on top of the indicators to reflect the timing of the changes relative to the signals.
There are 4-steps to allocation changes based on 25% reduction increments. As noted in the chart above a 100% allocation level is equal to 60% stocks. I never advocate being 100% out of the market as it is far too difficult to reverse course when the market changes from a negative to a positive trend. Emotions keep us from taking the correct action.
Something Just Broke
The good news is we appear to no longer be "stuck" as discussed last week.
The bad news is a more important correction may have just started. We won't now until we get a bounce next week to see where it fails. A failure to break the downtrend line from recent highs, followed by a break below support at 2132 currently, will lead to a further decline.
We continue to remain cautionary in 401k allocations which have kept volatility low and principal safe. We will once again remain at current levels this week until we see what happens next.
One important note in the 401k chart above. We are dangerously close to triggering a second sell signal, the bottom part of the chart, which will likely coincide with a failed rally attempt over the next week or two. Such an outcome would suggest a weaker market environment in the intermediate term with a high degree of caution required.
Again, with early warning signals are suggesting the correction has more room to go, so let's be patient once again this coming week.
With the election right around the corner, increased volatility is expected. Therefore, having a little extra cash in portfolios will likely be a good hedge for now. Sit tight for now and I will update you on Tuesday.
If you need help after reading the alert; don't hesitate to contact me.
---
Current 401-k Allocation Model
The 401k plan allocation plan below follows the K.I.S.S. principal. By keeping the allocation extremely simplified it allows for better control of the allocation and a closer tracking to the benchmark objective over time. (If you want to make it more complicated you can, however, statistics show that simply adding more funds does not increase performance to any great degree.)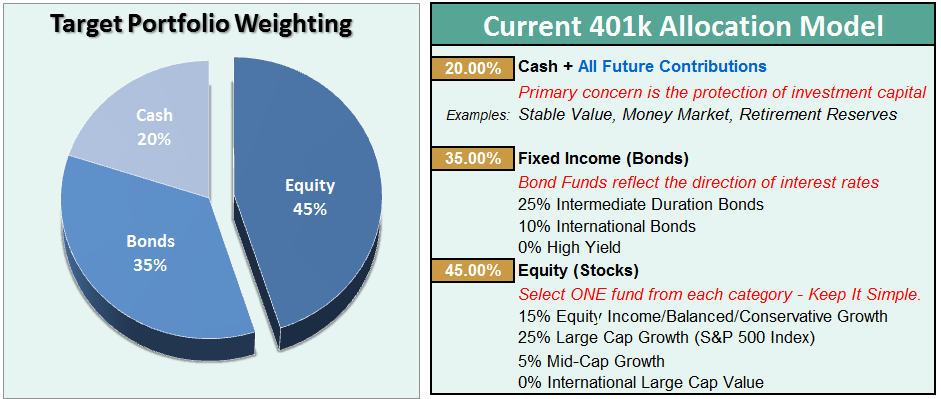 401k Choice Matching List
The list below shows sample 401k plan funds for each major category. In reality, the majority of funds all track their indices fairly closely. Therefore, if you don't see your exact fund listed, look for a fund that is similar in nature.
Save