◄ back to

all posts
Written by admin | Feb 16, 2012
Print Friendly
You have to love the mainstream media.  With each and every data point that is released there is "hopium" sprinkled about as if a new age revolution is upon us.  Of course, in reality the data is just so bad from a historical standpoint that we ALL want the situation to get better.  Housing is a critical component of a long term economic recovery as it has a huge multiplier effect of every dollar spent on the economy.  This is not lost on the powers that be.  The administration has spent hundreds of billions of tax payer dollars to garner some improvement through support programs like HAMP.  The government and AG's offices have given the banks a "get out of jail free" card for fraud, perjury and forgery in order to get their assistance in supporting underwater homeowners.  The banks, in turn, have given passes to homeowner's by allowing them to live in homes payment free for over two years in many cases without pursuing foreclosure activity.  The Federal Mortgage Agencies have suppressed down payment requirements and held off foreclosures in order to keep the market stable.  (Note:  Remember that all these activities have not been out of the goodness of their hearts for the sake of the American masses – it has been out of the need for self-preservation)
All in all it has been a herculean effort by all of the players to create the revival in the housing market that we see today.  You see it right?  It's right there in that very lower right hand corner of the chart.  Yes, that is the recovery we are talking about here.  That massive increase from the lows which has been paid for by taxpayers up to this point.
Furthermore, as pointed out by ZeroHedge this morning:  "While one can discuss seasonal factors, such as abnormally warm weather, as a driver of today's beat in Housing Starts, a far less noted number for headline purposes is the other side of the equation – Housing Completions. Because after all, every house that is started has to be completed at some point. One look at the chart below, shows why completions is quietly ignored, as it presents a far less optimistic picture about the housing market. Indeed, printing at 530k seasonally adjusted annualized units, the completions number was just the second lowest in decades, better only than the 509K from January 2011. And where this becomes rather glaring is when looking at the relative, or percentage, spread between Starts and Completions: at 31.9%, this was the highest in, well, as far as our data series goes back to. Does this mean that homebuilders are merely "breaking ground" for book keeping purposes, just to "paint the tape" and then quietly fading away into the night? We will know for sure in February when we get at least one more data print to validate or deny the recent troubling trend, but for the time being, to paraphrase a famous Bill Murray movie, is there something here being "lost in construction?" Or, far more simply, is this merely the latest ploy to paint not the tape so much as the economy in an election year with the latest incarnation of "cash for clunking construction"?
Not too awe inspiring when you put it into perspective.  As we have discussed and as Zerohedge pointed out above, the data has been skewed, along with jobless claims, by the warmest winter on record in the last five years, the lowest mortgage rates on record and, believe it or not, lower down payment requirements.
However, we aren't out of the woods just yet.  Pay attention to foreclosure activity.  Foreclosures are up 3% in January and now that the pathway has been cleared we can expect to see activity in foreclosures continue to rise.   Diana Olick pointed out this morning:  "Distressed property sales lower the value of homes around them, and that pushes more borrowers into a negative equity position, owing more on their mortgages than their homes are currently valued. Until banks work through the enormous backlog of foreclosures, which number in the millions, home prices will not hit a firm bottom, especially in the most troubled local real estate markets."
Yes, it is nice to see an uptick in housing as it is an important part of the economy.   However, it is a different matter entirely to expect a post-recession recovery as we have seen in the past.  The overhang of homes, high "real" joblessness, declining incomes, lower savings and tighter lending standards have put the possibility of home ownership out of reach for many Americans today.  The point here is that maybe, possibly, we have seen the bottom in housing but it certainly doesn't mean that we are about to see the next great housing boom either.

2012/02/16
Also Read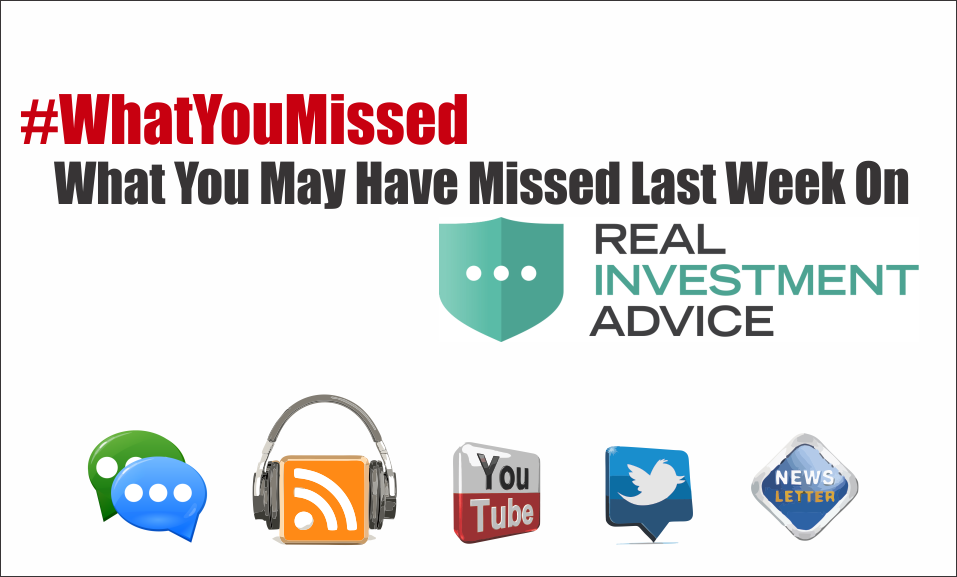 #WhatYouMissed On RIA: Week Of 12-02-19
Dec 6, 2019
Is Inflation Really Under Control
Dec 6, 2019
◄ back to

all posts